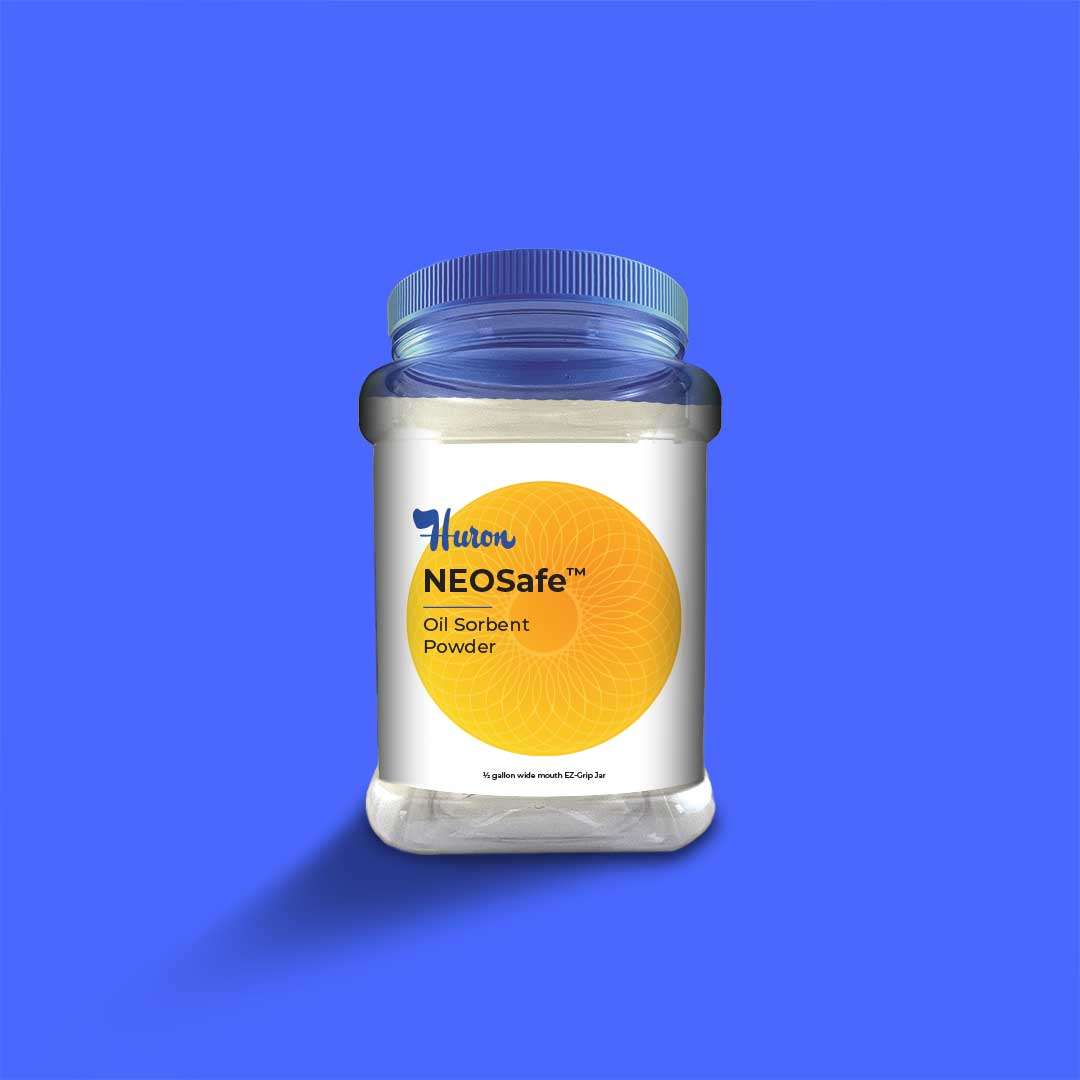 NEOSafe™ is a concentrated, lightweight occupational safety and parts cleaning product designed to remove nearly 100% of oily residue without the use of harmful solvents or chemicals. The unique formula of cell structure to particle size makes NEOSafe™ the easiest and safest product on the market to clean 100% of petroleum-based residue on slippery floors, greasy parts, and oily or gasoline-covered surfaces.
Our NEOSafe™ Sorbent Powder offers a range of benefits that make it the ideal solution for industrial spill cleanup. Our eco-friendly and non-toxic formula quickly and efficiently absorbs spills to prevent slip and fall hazards, while also meeting the highest safety standards. With its high-absorbency and versatile applications, our product is both cost-effective and highly effective in preventing accidents and injuries.
Best for 
The final step in spill cleanup, removing 100% of slip hazards that remain after bulk cleanup. Cleaning greasy parts and tools.
NEOSafe™ characteristics include:
Made of 100% Recycled Materials
Meets or exceeds all OSHA Standards for Workplace Safety and Health
Meets or exceeds all EPA standards for the cleanup of hazardous materials
Non-Toxic, non-flammable, and does not contain any harmful chemicals
Easy to dispose of and does not require any special permits.
Easy to use and does not require any special training
Reusable, if not fully sorbed
Zero Respirable Crystalline Silica
Hydrophobic, floats on the water's surface and removes petrochemicals from water without absorbing water.
Increases Friction on floors and parts
Lightweight material
Great for Petrochemical Spill Kits.
Low heat transfer coefficient
Acceptable for use on a variety of materials from concrete to fabric
No special handling or respiratory equipment
Works on smooth or coarse surfaces
8 Ounce Bottles

1-10

$12.99

11-20

$10.99

20+

$9.99
½ Gallon Jars

1-10

$75.99

11-20

$65.99

20+

$60.99
5 Gallon Pails

1-2

$550.99

3-4

$525.99

5-6

$500.99
Terms: Net 30 Days with Established Credit
FOB: Port Huron, MI
Pricing Effective: 06/01/2022
For Final 7% Oil Sheen Cleanup:
Cover the area thoroughly with NEOSafe™.

 

With a brush or broom, work the NEOSafe™ into the oil-sheen.
Sweep NEOSafe™ into a pile and scoop up. Dispose of in accordance with the type of spill absorbed.
Test for slipperiness. Repeat steps 1 – 3 if required. Usually, one treatment is sufficient.
The data contained herein are furnished for information only and are believed to be reliable. We cannot assume responsibility for the results obtained by others over whose methods we have no control. It is the users responsibility to decide suitability for the users purchase of any production methods mentioned herein and to adopt such precautions as may be advisable for the protection of property and of persons against any hazards that may be involved in the handling and use thereof.  In light of the foregoing, Huron Industries, Incorporated specifically disclaims all warranties of merchantability or fitness for a particular purpose arising from sale or use of Hurons products. Huron Industries, Inc., specifically disclaims any liability for consequential or incidental damages of any kind, including lost profits. The discussion herein of various processes or compositions is not being interpreted as representation that they are free from domination of patents owned by others or as a license under any Huron Industriess patents that may cover such processes or compositions.  We recommend that each prospective user test the proposed application to determine its suitability for the purposes intended before incorporating any product or application in its manufacturing process using this data as a guide. This product may be covered by one or more United States or foreign patents or patent applications. The recording of false, fictitious or fraudulent statements or entries on this document may be punished as a felony under Federal Statutes. NEOLUBE® is a Registered Trademark of Huron Industries, Inc. NeoSafe™ is a Trademark of Huron Industries, Inc.