Dry Film Lubricant
Neolube®
Dry Film Lubricants have been used in the components and/or construction of every nuclear power plant in the United States as a lubricant and anti-seize (or anti-galling) compound because of the low halogen content, a high-level of chemical purity.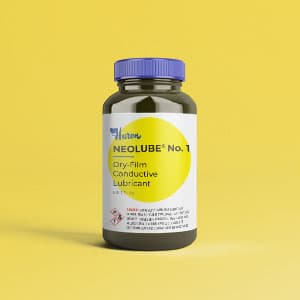 Neolube® No. 1
Neolube® No. 1 conforms to the stringent requirements of Military Specification MIL-L-24131C. Huron Industries, Inc. has been on the QPL (Qualified Products Lists) for this product since 1974. NEOLUBE® No. 1 has satisfied the stringent requirements for lubricating the internal and auxiliary equipment mechanisms of commercial and naval nuclear reactor systems. NEOLUBE® No. 1 provides non-corrosive, dry adherent lubrication for metal parts with limited clearances in applications where control of impurities is required. NEOLUBE® No. 1 resists abrasion and effectively lubricates moving parts, rubbing surfaces, and threaded parts for easier assembly, trouble-free operation and non-destructive disassembly. NEOLUBE® No. 1 is packaged in 2-ounce and 8-ounce non-halogenated plastic bottles with a brush in cap applicator. Neolube® No. 1 has the following National Stock Numbers associated with it: 9150-00-926-8963, 9150-01-304-6633, 9150-LL-L12-5267, 9150-LL-S04-5217, 9150-01-335-5044, 9150-LL-HX6-3358, 9150-00-LL-N91-0354, 9150-LL-RM1-3003, 9150-01-499-2121.
Download Neolube No.1 Technical Data Sheet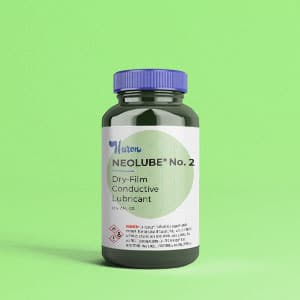 Neolube® No. 2
NEOLUBE® NO. 2 is a dry film conductive lubricant used extensively at nuclear power generating plants and other nuclear facilities as an anti-seize compound, thread lubricant, and for lubricating moving parts and rubbing surfaces. The thinness of the coating, coupled with high lubricity, provides clean long-wearing lubrication without redesign of component dimensions. NEOLUBE® NO. 2 is also an easy-to-apply resistance coating designed to provide conductivity, and excellent release properties to many non-conductive substrates, including most plastics. NEOLUBE® NO. 2 has the ability to vary conductivity.
Download Neolube No.2 Technical Data Sheet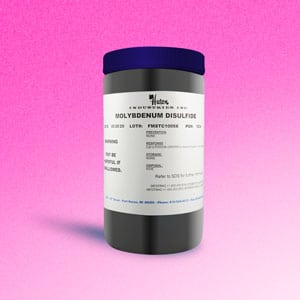 Molybdenum Disulfide in Isopropanol (MOLY), Lubricant
Molybdenum Disulfide in Isopropanol is a speciality lubricant designed for applications where control of impurities is required. This lubricant is intended for use on threaded fasteners and other anti-seize applications of closely fitted parts.  It is fully certified to Military Specification MIL-L-24478 and comes in two forms:
Premixed Lubricant – 8-ounce Bottle with Brush in Cap Applicator – National Stock Number 9150-01-206-3627
Lubricant Kit – 1500 Grams of Molybdenum Disulfide and 1000 Milliliters of Isopropanol – National Stock Number 9150-00-424-3224
Get a landed price for your NEOLUBE® order.
Before we can give you a landed price there are a few details which we will need.
Not all fields are required but in order to assure the most accurate quote possible, it is helpful for us to know a shipping address or zip code at the very least. Within our quote, we can also provide you with air and ground shipping options.
It is also important that you indicate if certification is required, because the certification fee may also be included in the quote.
Address
2301 16th St, Port Huron, MI 48060
Copyright © 2022 Huron Industries Inc. All rights reserved. Neolube® is a registered trademark of Huron Industries, Inc.